Hello one and all!
I've been busily being busy and have lots to share!
My first Sunshine Days OST is now complete and will be released on Wednesday 31st May. I'm hugely proud of it! Newgrounders will have heard some tracks already, but the whole thing will be available to stream on Spotify and Soundcloud, and available to download for free on Bandcamp.
The good folks at Netspeak Games are even doing a limited run of 200 vinyls! Hugely exciting and a first for me! Our art team designed the most incredible sleeve for it as well.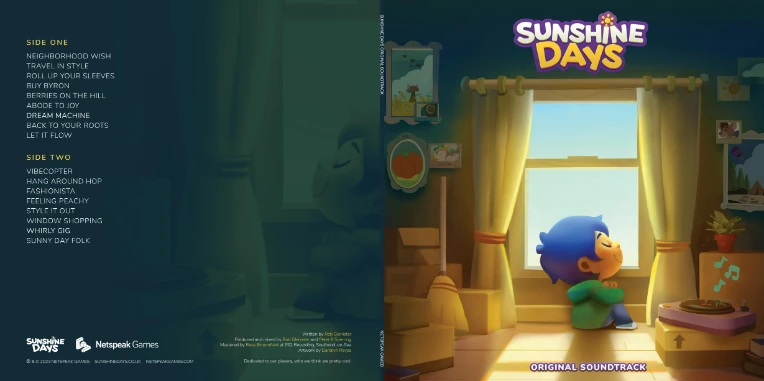 If you'd like to give the game a spin yourselves, it's free on mobile. CHECK OUT SUNSHINE DAYS 🥳
Outside of "work", I am also nearly ready to release my first run of affordable music asset packs for developers. The idea is 10 loopable tracks of music that are ready to put in your game for $10. The aim is to make them HIGH QUALITY at a LOW PRICE, so you can elevate your game without having to pay the usual rates (of course if you need to hire an audio designer, you still can at my usual rates :P)
There will be 5 packs available to start, but eventually there will over 100! More details to follow soon.
Anyway that's my little check-in. Keep on creating in the free world people!
ROB 🎵